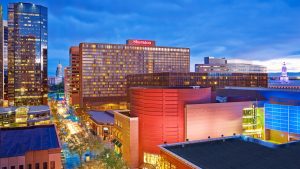 .
Little People of America – District 10 Regional
Friday, April 28th – Sunday, April 30th, 2017
Denver, CO – Sheraton Denver Downtown
.
From the heights of Colorado, welcome to Denver, the site of the 2017 LPA District 10 Spring Regional. District 10 and the Front Range Chapter of LPA are excited to be hosting this event which will be a trial run for the upcoming National Conference in July. It's time to "Spring into Action" and prepare for the upcoming National! This Regional is for members of District 10 and beyond – so invite all your friends – we look forward to having a great turnout for the weekend!
Our goals are to make this event as affordable, fun-filled, educational and stress-free as possible for all who attend. We have events designed to meet the various needs of LPA members all the way from young children to older adults.
In order to assist you in the registration process we have provided a detailed description for all events. If this is your first regional, it can be overwhelming, so if you're in need of assistance, or have any questions at all, please contact District Director, Gaill Blackburn, or any of the conference coordinators. In addition, we will have conference "veterans" on hand to assist you in any way possible. (District10LPA@gmail.com)
.
LPA D10 Spring 2017 Regional Conference Committee Members – 
Gaill Blackburn, LPA District 10 Director
Carol Trombino, LPA District 10 Treasurer
Brandi Van Anne, CO Regional Chair
Jami Garland, CO Chapter President
Nikole Bigley, CO Chapter Co-President
Angie Giuffre, LPA Western Regional Representative
.
A few important things to remember as you go through the pre-registration process.
LPA registration savings cutoff date is Friday, April 7th !!!
Name badges must be worn during the conference at all times
Hotel reservation cutoff date is Wednesday, March 29th to secure the LPA rates
Please fill out forms completely & clearly – and only 1 household per registration form.
Please make your checks payable to:  LPA D10 2017 Spring Regional
Looking forward to seeing you in April!
Sincerely,
Gaill Blackburn
LPA District 10 Director
.
| 2017 DENVER | WELCOME LETTER | HOTEL INFO | HOTEL DIRECTIONS | HOTEL MAP |
| CONFERENCE SCHEDULE | CONFERENCE HIGHLIGHTS |